[Notice]Dear scholars, given the pandemic of Covid-19 in various areas in China, the Organizing Committee has carefully decided to hold the conference online. We sincerely apologize for any inconvenience caused to you.
The 2022 6th International Workshop on Renewable Energy and Development (IWRED 2022) [第六届可再生能源与发展国际研讨会]will be held on June 10-12, 2022 in Chengdu, China.

IWRED 2022 focuses on the renewable energy and development. The applications of renewable energy and development to such domains as Solar energy, Wind energy, Geothermal energy and Sustainable Energy et al. It is a technical congregation where the latest theoretical and technological advances are presented and discussed. We expect that the conference and its publications will be a trigger for further related research and technology improvements in this important subject.
IWRED 2022 is listed in Chengdu University of Technology, China!
Call for Papers
This conference will provide an excellent opportunity for everyone involved to learn and discuss about sustainable development and green technology to the following areas:
Solar energy
Wind energy
Biomass energy
Ocean energy
Geothermal energy
Sustainable Energy
Energy Security and Clean Use
Paper Submission Methods
The papers should adhere to the Template! All the papers will be peer reviewed by 2-3 experts. It takes 1-2 weeks for the result coming out. If the paper needs revising, it should be resubmited for peer review again.The full paper should be no less than 5 pages, including figures,tables and references. Plagiarism is prohibited.
More details, please click here!
Publication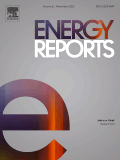 CiteScore: 2.7 Impact Factor: 6.87
Papers submitted to IWRED 2022 will be reviewed by technical committees of the conference. All accepted papers of IWRED 2022 will be published in the Energy Reports (ISSN: 2352-4847), which will be submitted to:
SCIE (Science Citation Index Expanded)
Ei Compendex-JA
Scopus
DOAJ (Directory of Open Access Journals)
IWRED Overview